RNC aftermath coverage from... ...Dallas?
Yep. There is coverage of the aftermath of Bloomberg's shameful ass kiss to the RNC. But, you'll have to read the Dallas Morning News to find it.
(note: found via a post by seesdifferent over on DailyKos).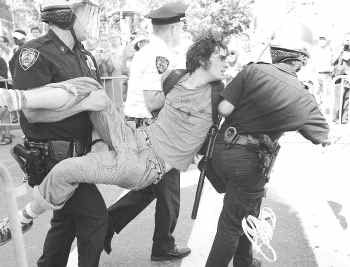 They were captured in nets, handcuffed and thrown into crowded jail cells.
For more than 1,800 protesters arrested at last year's Republican convention, free speech came at a price. Some are still fighting charges such as disorderly conduct and failure to disperse. Of those who have made their way through the judicial system, nine in 10 were not found guilty of anything.
Demonstrators say that New York City was transformed into a police state for the benefit of President Bush. They point to the lack of convictions as evidence that Republicans were more concerned with squelching dissent at their carefully scripted convention than with keeping the streets safe.
....

Many activists said the party and the police went too far, and a class-action lawsuit alleging that arrests were used as crowd control is under way. Also, New York officials recently agreed to pay a modest settlement to some of the protesters.
The protesters describe being accused of blocking traffic while standing on streets that were barricaded off and of resisting arrest when videos show them following police instructions.
....
Of the 1,806 people arrested during the convention, 1,670 have resolved their cases, said Barbara Thompson, spokeswoman for the Manhattan district attorney's office. Most were accused of minor offenses, punishable by fines or short jail sentences.
About 10 percent were convicted or pleaded guilty to misdemeanors or violations. And 26 percent of the cases ended with acquittals or dismissals, she said.
....
But some activists argue that this is proof of "pre-emptive arrests" to clear the streets before the president arrived.
Bill Goodman, a New York lawyer who is spearheading a class-action lawsuit, said mass arrests were used to control crowds. His complaint also asserts that demonstrators were subjected to prolonged and unreasonable detention and inhumane conditions.
"The city of New York and the Police Department decided that they were going to basically suspend the Constitution for a couple days," Mr. Goodman said. "And if they were allowed to do it once, they could do it again."
The city has not admitted wrongdoing but has agreed to a $230,000 settlement in a separate contempt claim. More than 100 demonstrators who were kept locked up after a judge ordered their release will receive $150 each, and the rest of the money will pay their attorneys' fees and other legal costs.
I think Mr. Goodman hit the nail on the head with that statement. The city really did feel it could suspend the Constitution for a few days and did just exactly that. I think the Bloomberg administration figured they were willing to pay the costs (contempt fines, class action lawsuits, etc.) of breaking the law and ignoring repeated court orders to ensure that Shrubya and is coterie of fuckwits were able to stage their shameful dog and pony show in NYC with as little disruption from those who actually live here as possible.
Honestly, I wouldn't be surprised if there was a line-item in the budget somewhere. It's disgraceful.
http://dailygotham.com/blog/lipris/rnc_aftermath_coverage_from_dallas
Mouse over the text to select it, then press Ctrl-C to copy it.
Submitted by lipris on Tue, 17/05/2005 - 1:50pm.
On This Day